Hey, overthinker—
let's get you out of your comfort zone this 2019.
Are you Team Write-Down-Your-Goals
or Team Just-Wing-It?
Just to help you avoid the heartache…
I need to tell you this:
Roughly 99% of my students who decide to just "wing it" for their goals for the year…
end up regretting it. BIG TIME.
Regrets of Team Just-Wing-It often include:
Feeling like their year was all over the place, and that they kept saying yes to the wrong things (or just saying yes to anything) -- leaving them feeling directionless

Not being able to stick to ANYTHING: whether that's saving money, becoming more fit/healthy, achieving more at work or school

Just having a… meh year

They initially wanted to "go with the flow" – but that quickly turns into complacency and laziness after a few months

That feeling of not being intentional about their plans or actions – and finding it hard to find the motivation to power through the year

Feeling lost in general
If you start a year without setting an intentional big picture view…

you're already setting yourself up for disappointment and regret.
(And this is how we often end up chasing after the wrong things, or after the goals that are "expected" of us.)
If you're someone who:
is struggling to figure out what's next in your life

is maybe feeling unhappy in your current job, but don't know what you want to do otherwise, or

maybe you just feel like you're stuck in a rut and want to push yourself to set a clearer, more inspiring North Star...

I've got you. 😉
I'm going to teach you how to:
take what you learned from the year that has passed (the good AND the bad),
distill those into key learnings,
and use them as a foundation for setting your theme -- and more intentional goals -- for the New Year.
I mean… you could do it the lazy way: just wing it, "go with the flow," and hope for the best. (FYI: Those who think that intentional goal-setting doesn't work anyway because of life's unpredictability just don't know how to do it properly. #sorrynotsorry)
Or, you could do it the Doomed-To-Fail way, aka copy-and-paste from last year's New Year's Resolutions list (lose weight, exercise more, save more, read more, yadda-yadda-yadda)...
and yes, you might have that first burst of motivation in January -- but more often than not, you'll find yourself quickly losing steam and having Resolution Amnesia by the time February rolls around.
...IF you even make it to February.
Or… I could help you with a structured set of prompts, guide questions, and worksheets -
to help you reflect on 2018, and set your bigger purpose & theme for the New Year.
The 2019 Braver Goals Workbook
My Bravest Year Ever
A Purposeful Guide To Creating A 1-Year Life Plan
(that pushes you out of your comfort zone & into a life of courage and fulfillment)
Braver Goals (n.)
DEFINITION:
Goals that truthfully declare what YOU really want from your life, not just what's expected of you. Goals that are aligned with your Why. Goals that come with an action plan and a calendar.
How this workbook works (and what's included):
Well-deserved Me Time: This is a workbook that's answerable in 3-5 focused hours.

Downloadable: It's a downloadable PDF file. Can be answered digitally via iBooks, or printed out.

Find Your Focus: By the end of the workbook, you'll be able to clearly articulate your long-term goals and priorities, and align yourself with your North Star.

YOU CAN USE IT FOREVER: You can use and reuse for this year, and for all the years to come.
It contains:
goal-setting templates

reflection guides

journaling prompts

goal calendar

Inspirational stories

and progress trackers (monthly and quarterly) for the entire year
You will also receive monthly email reminders for the entire 2019 to nudge you to answer the monthly progress trackers included in the workbook. It's a great way to get accountability and regular reminders through your inbox!

Let's get started, shall we?
Choose the learning experience that's right for you:
THE BASICS
WORKBOOK ONLY
US $15
Includes:
Downloadable workbook (80+ pages); can be used year after year after year!
MOST POPULAR + MOST VALUE
THE FULL WORKSHOP
US $35
Includes:
Downloadable workbook (80+ pages)

A full guided workshop (text and videos) for How To Plan & Organize Your Year

Pep talks & other videos

7-day satisfaction guarantee
To help you decide on which learning experience is best for you, here's a comparison table: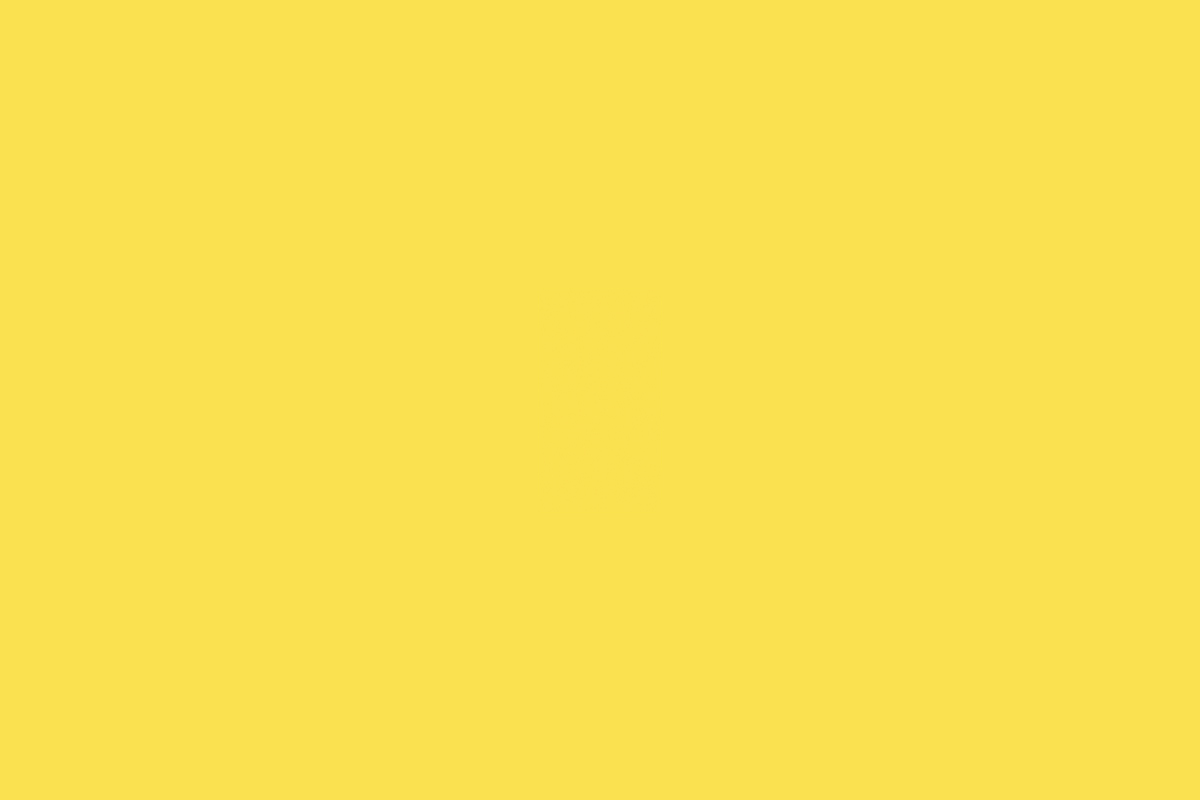 WHAT PEOPLE ARE SAYING ABOUT THE WORKBOOK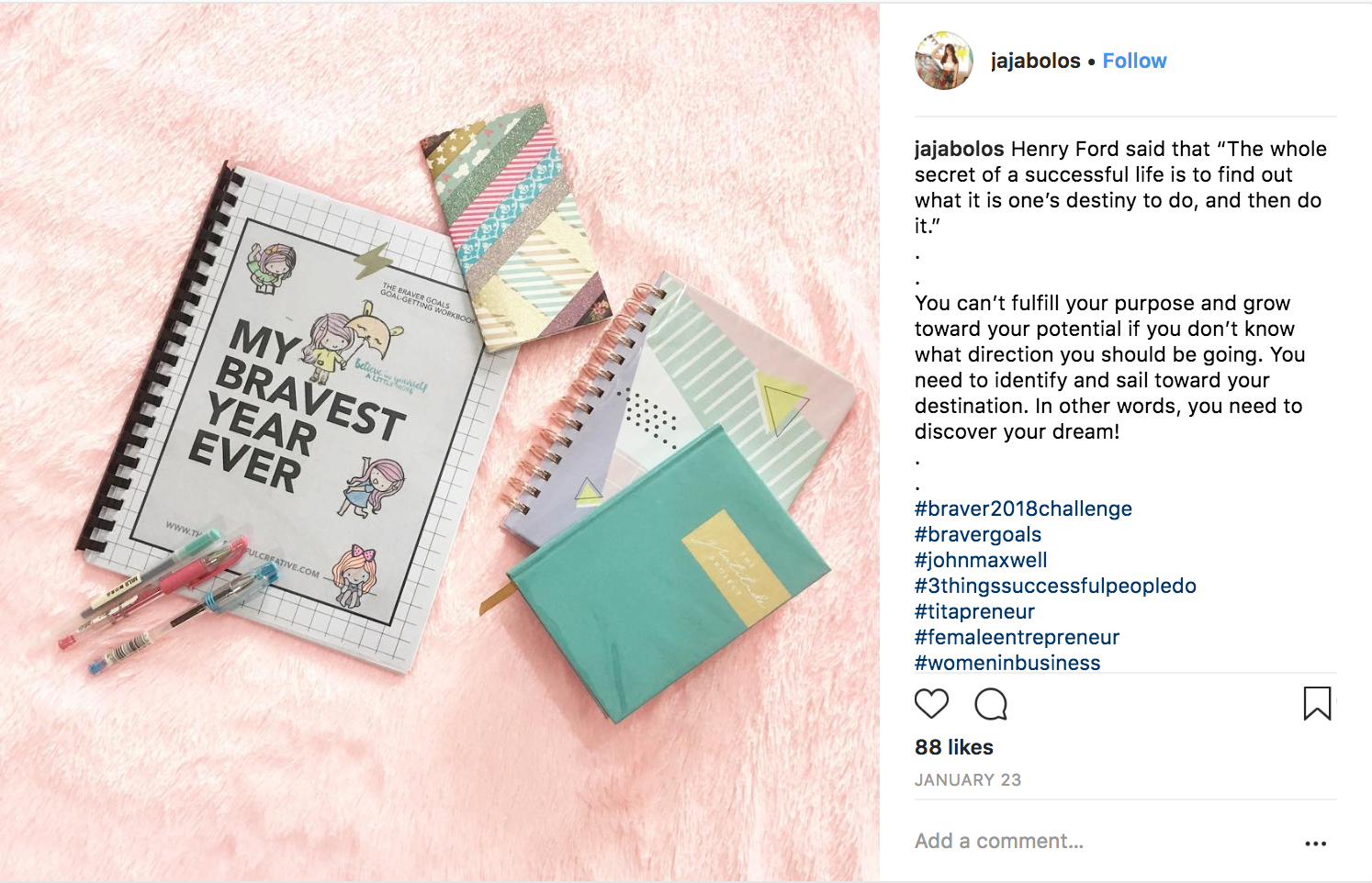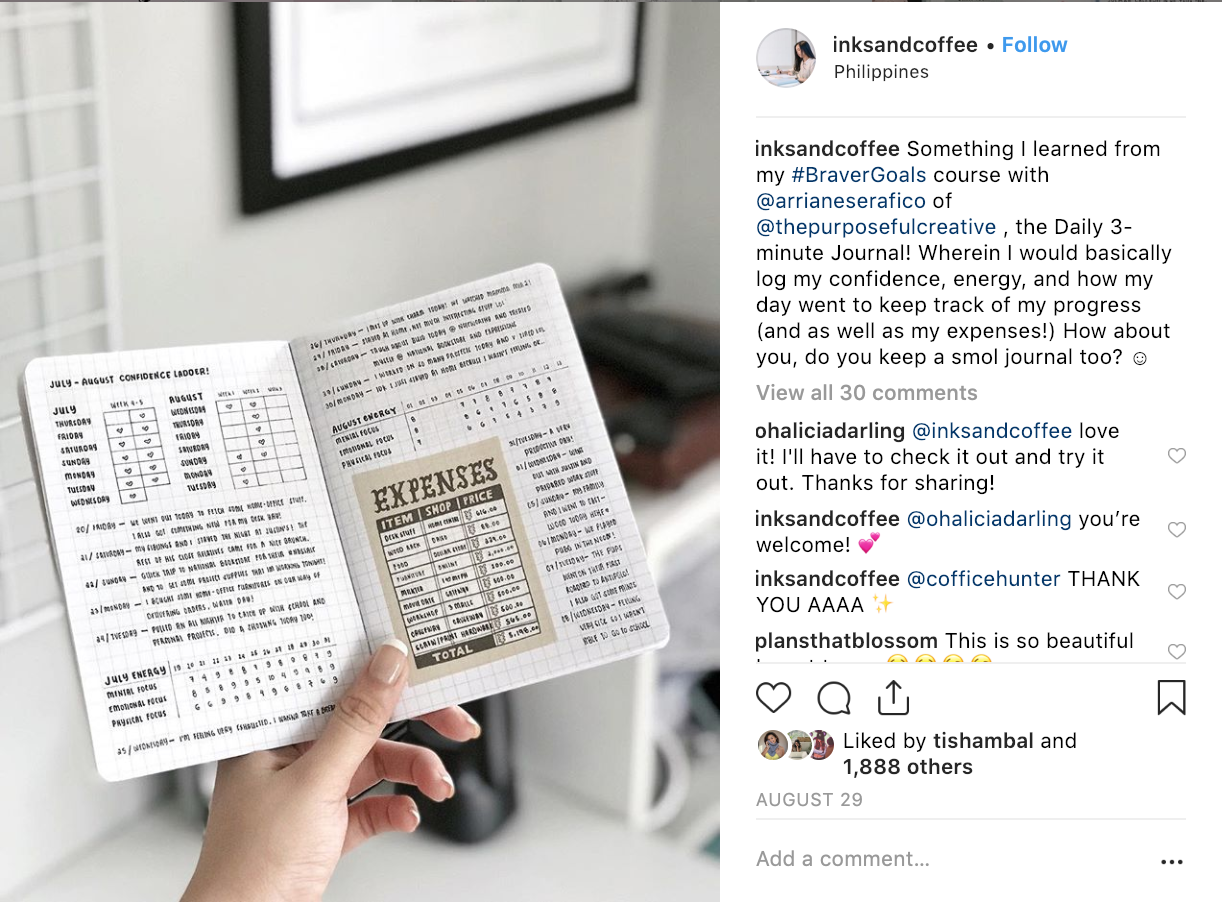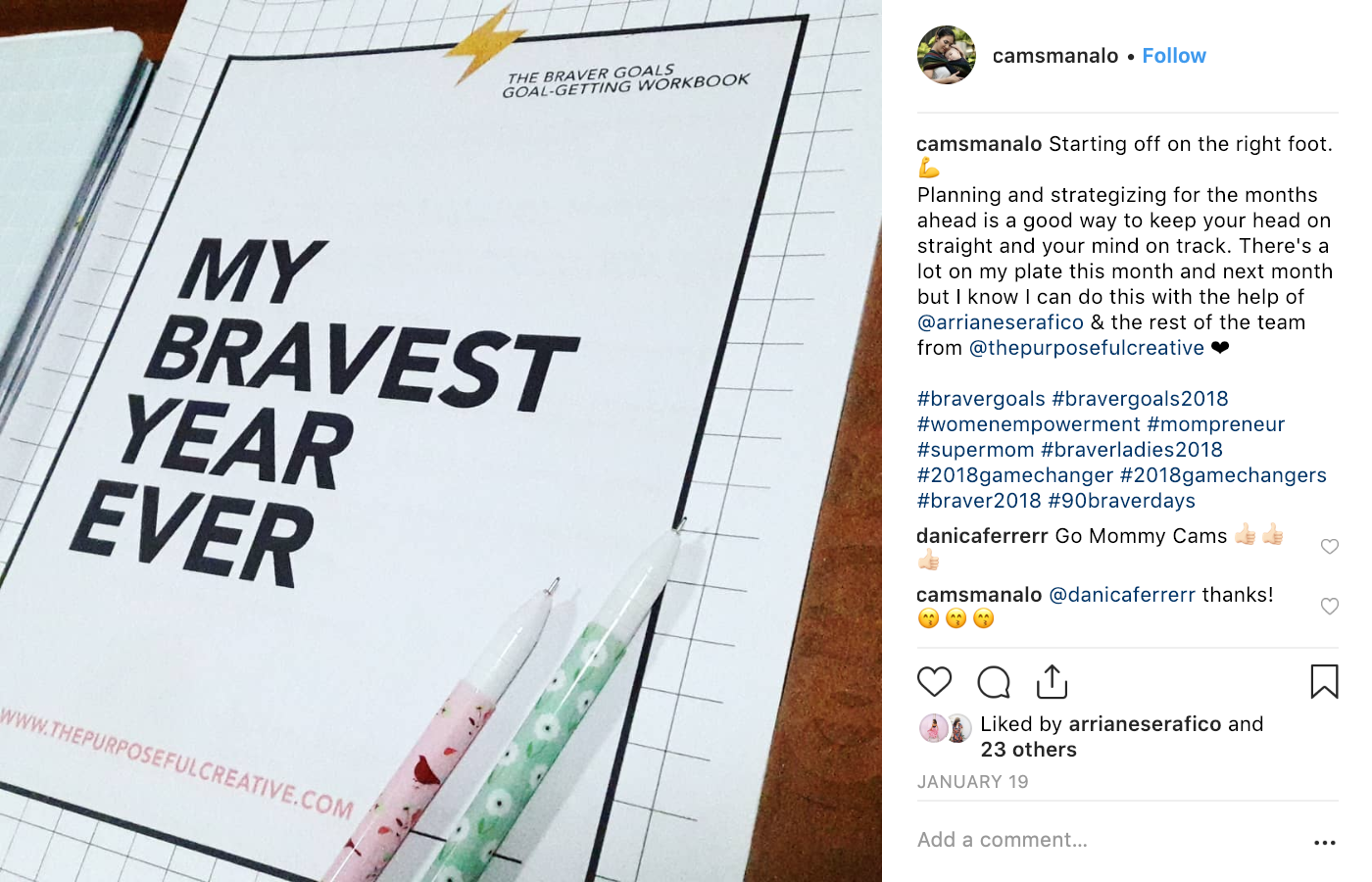 I agree: life is unpredictable, and you can't plan for everything. HOWEVER…
You CAN set your North Star, calibrate your compass towards it, so that you can have a guide for your actions and decisions: making you more focused, more motivated, more productive, more intentional – about every month, every week, every day of the year.
But setting your North Star requires a more structured, deeper dive into the process – not just making a long and unfocused laundry list of everything you want to do for the year.
(Hint: A lot of those goals are usually only surface goals… and are usually a reflection of someone else's expectations of you, vs. the goals you really want to pursue.)
Watch the Course Preview below:
Set goals that are aligned to what YOU want --
not just what's "expected" of you.


"This workbook's monthly reviews/goal trackers always, ALWAYS help me get my sh*t together every month."
- Rizza Lana, Braver Goals alumni
How much time do I need to devote to this?
If you sit down and binge-learn this, Netflix-style — you can finish in about 3-5 hours (complete with snack breaks).
You may also choose to devote 30-60 minutes each day for each module — if you choose this, it will take you about 4-6 days. You can also pace yourself even slower and go through one module a week! (Busy moms, we see you: the latter might be the most feasible schedule for you.)
How long will I have access to the course?
For 1 whole year! Unlike an in-person workshop, where in you just attend for 1 workshop, and then bye, you go home -- in an online workshop, you get access to the course content for one whole year.
That means you can re-watch, re-read, re-take any of the missions any time you want.
Why is access just for one year? Based on our experience & feedback from MANY batches, we've learned that putting a finite timeline on access promotes TAKING ACTION instead of just knowledge hoarding.
Student feedback has been that they feel more lax and complacent if they know it's going to be there forever; and feel more motivated by urgency to act when they know they have a deadline.
Will I get personalized coaching or feedback?
Just to make it clear, this program isn't a one-on-one coaching program - so there won't be individual feedback.
If you're REALLY interested in an even deeper 1-on-1 goal coaching program where I will work on your goal strategy WITH you (with weekly coaching sessions) — we do offer this at a more premium price, but only for alumni students (students who have already finished the Braver Goals course). We send regular emails to open a few 1-on-1 spots per quarter.
Yes, the content is the same, just spruced up with a new design and updated with a few tweaks! Feel free to email us if your 1 year access has expired and you want to take it again.
I already enrolled in Braver Goals in the past years (2016-2018), is this different?
Try the course+workbook for 7 days with our
100% SATISFACTION GUARANTEE.
Before anything else, we DO NOT offer refunds if:
You purchased the "Workbook Only" plan.
The 7-day guarantee only applies if you purchase the workbook + course option.
We run our school a little differently: we value delivering RESULTS over all else. If you're a joy-enroller (just enroll in courses & then don't go through them, then demand for a refund) — this is NOT the school for you.
We honor refunds based on a code of teacher-student honor. Our genuine mission is to give you a program of VALUE, one that will deliver results, IF you actually do the activities.
It's just like working out, or skincare — you can't buy a gym membership or a skincare product, and expect results WITHOUT actually using it consistently, right?
And so, our refund policy revolves around action and completion.
We've worked hard on putting this learning experience together — and so we also expect you to do the work and give it your best shot. That's why in order to be eligible for our 7-Day Satisfaction Guarantee, you must submit proof that you did the coursework.
To request for a refund, you have to:
Submit your COMPLETED workbook to team@thepurposefulcreative.com. Failure to submit this, or submitting the requirements after the 7-day grace period will invalidate your refund request.
If you're able to submit this within that 7-day grace period (counting after your date of purchase), we'll promptly refund your course fee. Again, to be crystal clear, if you do not include your completed workbook requirements within the 7 day period, no refund will be issued.

GOT QUESTIONS WE HAVEN'T ANSWERED HERE?
Write to our team at team@thepurposefulcreative.com and we'll be happy to help. My business hours are M-F 9am to 5pm PHL time, and I strive to respond within 24 business hours.